Capital One Venture X Business Review
Premium travel card with elevated benefits and travel perks for business owners.
By Mandy H.|Updated on 9/13/2023
Back
Advertiser Disclosure: Some of the card links and products that appear on this website are from companies which Cardonomics may receive compensation when you click on links to those products. You don't have to use our links, but we're grateful when you do! View our Advertising Policy. The content on this page is accurate as of the posting date; however, some of our partner offers may have expired.
The Capital One Venture X Business is a good choice for business owners who want elite travel benefits like Capital One Lounge access, TSA PreCheck® or Global Entry, and flexible rewards. The card is a pay-in-full card, meaning you must pay off the card in full each month.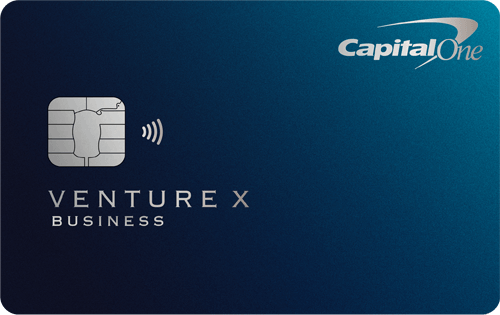 Capital One Venture X Business
150,000 Miles once you spend $30,000 in the first 3 months from account opening
Point Multipliers
The Capital One Venture X Business earns Capital One miles and is great for travel spending and as a catch-all option. You get:
10X on hotels and rental cars (booked through Capital One Travel)

5X on flights (booked through Capital One Travel)

2X on all other purchases
Capital One Venture X Business Key Benefits
The Venture X Business card has a few key benefits with the traveling business owner in mind.
$300 Annual Travel Credit: Get an annual $300 credit for booking through Capital One Travel.
10,000 Bonus Miles: Get 10,000 miles (worth at least $100) each card member year, starting on your first anniversary.
Airport Lounge Access: Cardholders and up to two guests get unlimited access to Capital One Lounges, as well as Priority Pass and Plaza Premium Lounges.
Capital One Premier Collection: Access the Premier Collection of luxury hotels and resorts. Each stay gets a $100 experience credit and other premium benefits on every booking.
Capital One Lifestyle Collection: Access the Lifestyle Collection of vibrant hotels. Get a $50 experience credit on every booking.
Global Entry or TSA PreCheck®: Receive up to a $100 statement credit on Global Entry or TSA PreCheck® every four years.
Pay-In-Full Card and Credit Limits
The Capital One Venture X Business card is a pay-in-full card, meaning your balance must always be paid off in full every month.
The card has no preset spending limit. The Venture X Business card adapts to your needs based on spending behavior, payment history, credit profile, and other factors.
Business Benefits
Enable your team to make business-related purchases and earn rewards on their transactions using complimentary employee and virtual cards. Additionally, effortlessly synchronize your transaction data with your accounting software and streamline vendor payments.
Employee Cards: Get complimentary employee cards, establish personalized spending limits, monitor expenditures, and accrue rewards from their transactions.
Virtual Cards: Enhance security for vendor payments and streamline expense management without revealing your physical card number.
Integrations: Automatically synchronize your transaction information with various accounting software options like Concur Expense, Quickbooks Online, Expensify, and others.
Automatic Payments: Set up AutoPay for worry-free payment scheduling.
Year-end Summaries: Receive detailed spending reports for easy budgeting and tax preparation.
Account Managers: Appoint dedicated account managers for purchasing, payment handling, transaction review, and issue resolution.
Purchase Records: Securely download purchase records in various formats (e.g., Quicken, QuickBooks, Excel).
Payment Flexibility: Choose your preferred monthly due date for greater payment control.
Transaction Details: Access merchant information such as address, logo, phone number, and maps when available.
Recurring Transactions: View a list of recurring merchants charging your business card (e.g., bills, subscriptions).
Redeeming Capital One Miles
The Venture X Business earns Capital One miles, and you have a few options for redeeming, depending on your goals. For travelers, the goal is typically a value of at least two cents per mile.
Cash Back
You can redeem Venture X's Capital One miles for cashback at a minimum rate of 0.5 cents per mile (0.5 CPM). This effectively means that earning 2X miles is only equivalent to a 1% cashback rate. This option is not recommended for travelers.
Shop Online via Amazon or PayPal
When using this option, you can get a value of 0.8 CPM. This translates to 2X miles being worth 1.6%, which falls short of the 2% target rate.
Book New Travel and Cover Travel Purchases
Capital One miles can be redeemed at a rate of 1 cent per mile ($0.01) for booking new or past travel. This means that 2X miles are worth 2%, which is the baseline value to aim for when using your miles.
Aspirational Travel
Miles can also be transferred to airline and hotel partners, which is ideal for aspirational travel, such as first or business class trips.
In this scenario, you can reasonably expect a value of 2 CPM, making 2X miles worth approximately 4% in value. This value can significantly increase (closer to 10 CPM) when considering retail prices, but it's advisable to use your willingness to pay as a benchmark.
Main Takeaway
The Capital One Venture X Business is ideal for the small business owner who can meet the minimum spend requirement to earn the intro bonus. The card comes with many useful travel perks, like access to luxury hotel collections and airport lounges.
However, if your business has very low spending, you're likely better off going with the personal version of the Capital One Venture X or another business card.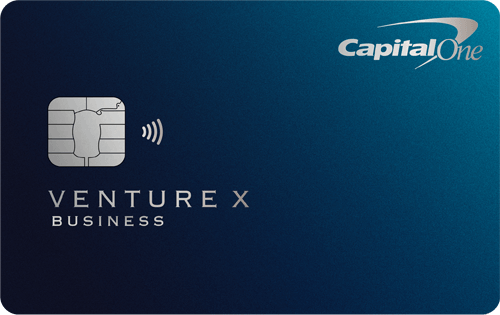 Capital One Venture X Business
150,000 Miles once you spend $30,000 in the first 3 months from account opening